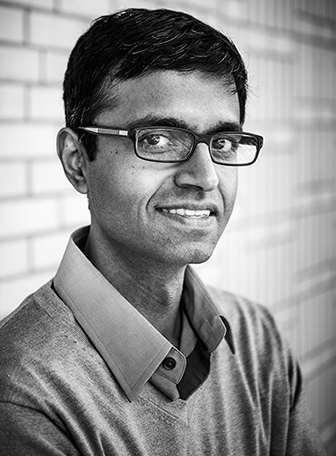 Prof. Siddhartha Srinivasa founded the Personal Robotics Lab with the goal of enabling robots to perform complex manipulation tasks under uncertainty and clutter, with and around people. Sidd is also passionate about building end-to-end systems (HERB, ADA, HRP3, CHIMP, Andy, among others) that integrate perception, planning, and control in the real world. Understanding the interplay between system components has helped produce state of the art algorithms for object recognition and pose estimation (MOPED), and dense 3D modeling (CHISEL, now used by Google Project Tango).
Oren Salzman completed his PhD in the School of Computer Science at Tel Aviv University, under the supervision of Prof. Dan Halperin. He is currently a postdoctoral researcher at Carnegie Mellon University working with Siddhartha Srinivasa and Maxim Likhachev. His research focus is robot motion planning. Specifically, his research focuses on revisiting classical computer science algorithms, tools and paradigms to address the computational challenges that arise when planning motions for real-world robots. Combining techniques from diverse domains such as computational geometry, surface simplification, random geometric graphs, graph theory and machine learning, he strives to provide efficient algorithms with rigorous analysis for robot systems with many degrees of freedom moving in tight quarters. He earned his BSc with honors from the Technion and his MSc with honors from Tel Aviv University.
Sanjiban Choudhury completed his PhD in Robotics from Carnegie Mellon University, under the supervision of Prof. Sebastian Scherer. He is currently a postdoctoral researcher at University of Washington working with Prof. Siddhartha Srinivasa. His research focus is on problems at the intersection of machine learning and motion planning. During his PhD, he developed the motion planning architecture, that integrated learning and planning, for an autonomous full-scale helicopter. Sanjiban has a MS from CMU, a BTech and MTech from IIT Kharagpur. He has also worked at Microsoft Research as in intern on imitation learning for sequential decision-making. He is a Siebel Scholar, class of 2013.
Gilwoo Lee is a PhD student at UW advised by Siddhartha Srinivasa. Her research interests are manipulation and reinforcement learning. Gilwoo has received B.S. in Computer Science and Mathematics and M.Eng. in Computer Science from MIT, and has received M.S. in Robotics from Carnegie Mellon University. Gilwoo has previously worked as a technical director at Dreamworks Animation Studios, a research associate at Canon Headquarters and Disney Animation Studios, and a PhD research intern at Oculus Research Pittsburgh. She's a recepient of Samsung Scholarship (2006-2010), Kwanjeong Scholarship (2015-current), and CMU's Presidential Fellowship (2017).
Stefania Pellegrinelli (ITIA-CNR)
Gabriel Quéré (ENSTA ParisTech)
Marco Cognetti (University of Rome)
Joshua Haustein (Universität Karlsruhe)
Henny Admoni (Yale)
Georg Bartels (TU Bremen)
Katie Correll
Michael Koval
Steven Gray (Penn)
Vincenzo Micelli (University of Parma)
Tim Niemueller (RWTH Aachen)
Peter Kaiser (Universität Karlsruhe)
Maya Cakmak (Georgia Tech)
Alex Sorokin (UIUC)
Lillian Chang
Ross Knepper
Laura Lindzey
Manuel Martinez
Julius Ziegler (Universität Karlsruhe)
Nico Blodow (TU Munich)
Geoffrey Hollinger
Kevin Peterson
Nathan Ratliff
Martin Rufli (ETH, Zürich)
Rosen Diankov
Michael Ashley-Rollman
Stuart Anderson
Michael DeRosa
Ashish Deshpande (U. Mich)
Jiaxin Fu
Preethi Bhatt
Maha Alrashed (Boston University)
Abdullah Albakry (NC State)
Kaiden Field
Connor Geiman
Tao Jin
Jeffrey Maxwell
Shivam Singhal
Savanna Yee
Nanda Sundaresan
Ramon Qu
Vinitha Ranganeni
Kevin Zhang
Pengju Jin
Minae Kwon
Anton Kuznetsov
Matt Harding
Arpit Saxena (IIT Kharagpur)
Joey Fernau
Angela Wang
Peter McHale
Vikram Sunder
Don Zheng
Neil Jassal
Myles Blodnick
Scott Martin
Yuyang Guo
Rachel Holladay
Andrey Kurenkov (Georgia Tech)
Abhijeet Tallavajhula (IIT)
Bo Xiong (Connecticut)
Corina Guaru (Jacobs)
Debidatta Dwebi (IIT)
Kenton Lee (Penn)
Dominic Zirbel
Tom Mullins
Nick Stanley
Alex Zirbel
Tudor Achim
Andrew Yeager
Ian-Clanton Thuon
Daniel Dewey